Amendment of the German Packaging Act: regulations tightened for online marketplaces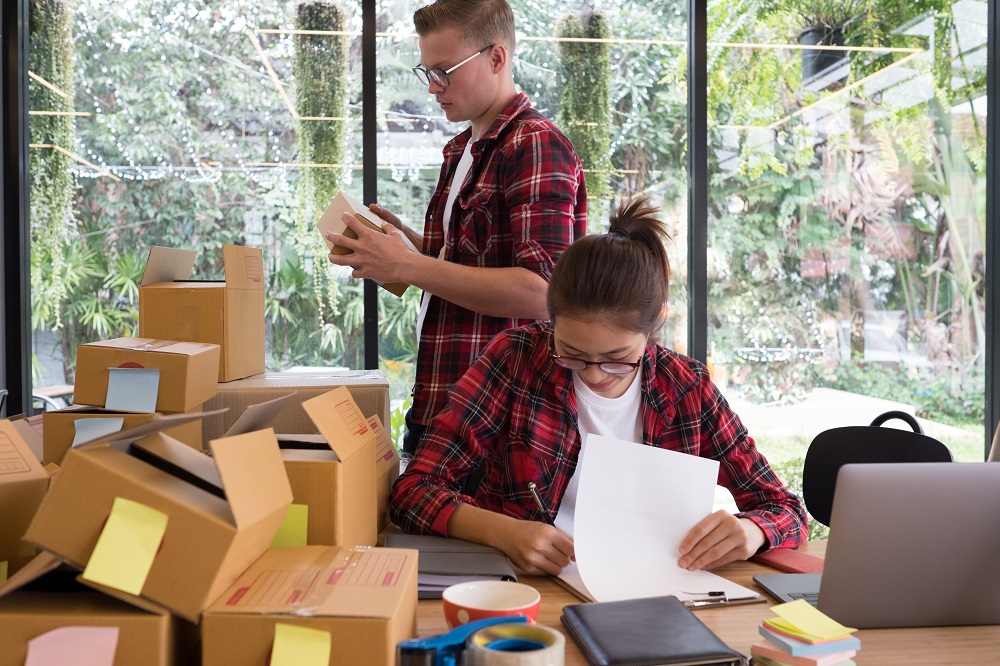 The German Packaging Act (VerpackG) entered into force in January 2019. Since that date, some 200,000 companies have now registered their details in the official LUCID database. Yet many businesses are still not fulfilling their duties when it comes to product responsibility. To address this problem, the Federal Environment Ministry proposed an amendment to the Act in autumn 2020.
This draft legislation was adopted in January 2021 by the Federal Cabinet. After passing the Bundestag and Bundesrat, the amendment will now become law on 3 July 2021 (various transitional periods will apply). New regulations will then apply to the hospitality sector and online marketplaces. In this post, we provide you with a detailed explanation of what these changes mean, with a focus on marketplaces and fulfilment service providers.
Contents
At a glance: what changes are introduced by the amendment to the Packaging Act?
New regulations for transport packaging: In the future, anyone placing transport packaging on the market will have a duty to inform the end user (from 1 July 2021), a duty to provide proof of the take-back and recycling of their transport packaging (from 1 January 2022) and a duty to register (from 1 July 2022).
Mandatory deposit from 1 January 2022: Starting next year, a deposit will now be charged for all disposable beverage bottles made from plastic and all beverage cans. Current exceptions will be revoked, although a transitional period to 2024 will be granted for dairy products.
Checks for online marketplaces to intensify from 1 July 2022: Online marketplaces will need to verify that merchants are fulfilling their Packaging Act duties (for details, see 'New rules for online marketplaces and fulfilment service providers').
No more licensing duties for fulfilment service providers from 1 July 2022: In certain circumstances, fulfilment service providers currently have to license the shipping packaging that they use to ship the goods. The new amendment shifts this duty without exception to the distributor: fulfilment service providers will therefore no longer be responsible for licensing shipping packaging for which participation in the dual system is mandatory. As with online marketplaces, however, fulfilment service providers must now verify that merchants are fulfilling their legal duties (for details, see 'New rules for online marketplaces and fulfilment service providers').
Reusable packaging from 1 January 2023: Restaurants, bistros and cafés will need to offer reusable packaging as an option for their takeaway products. This packaging must not be more expensive for customers than products in non-reusable packaging and must be offered for any beverage-to-go-sized product. While this regulation does not apply in full to small businesses such as food stalls or kiosks, these businesses will still need to offer a filling service for customers who bring their own containers.
Minimum proportion of recycled material from 1 January 2025: From 2025, PET beverage bottles will need to be made from at least 25 percent recycled plastic. In 2030, this minimum proportion of recycled material increases to 30 percent and applies to all non-reusable plastic bottles.
All relevant changes for online retail for download
From when do the regulations of the Packaging Act amendment apply?
The amendment to the Packaging Act will take effect from 3 July 2021. However, transition periods apply to some changes.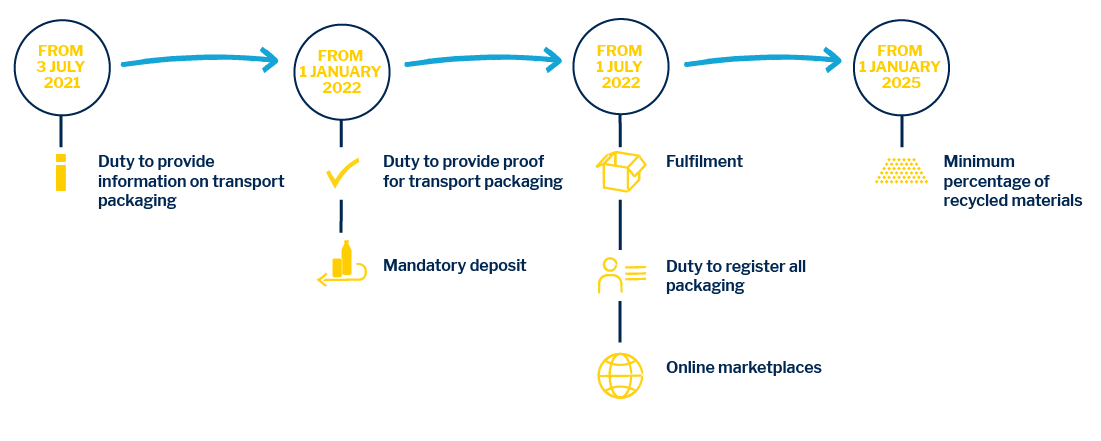 New rules for online marketplaces and fulfilment service providers
The Packaging Act applies to all merchants and manufacturers who place sales packaging on the market within the jurisdiction of the Federal Republic of Germany. Accordingly, the law applies not only to bricks-and-mortar retailers, online retailers or producers in Germany: international merchants who sell their products to private customers in Germany via a marketplace or with the help of a fulfilment service provider must also comply with the provisions of the Packaging Act.
Situation: Often, international merchants are not aware of these duties. Honest businesses, who license their packaging with a dual system, therefore incur higher costs as a result of the licence fee than merchants who forget, overlook or simply ignore their duty to participate in the system. Companies who do license their packaging suffer a competitive disadvantage – even though their packaging licence makes a valuable contribution to the efficient closed-loop economy.
Although the Central Agency Packaging Register does punish breaches of this law, international merchants often have no registered place of business in Germany or the EU, which means sanctions against them may be impossible to enforce.
However, since international merchants are primarily active on online platforms such as Amazon, eBay or Etsy, these online marketplaces and fulfilment service providers are being targeted by the amended Act. In the future, neither online marketplaces nor fulfilment service providers may therefore offer any products from merchants who do not participate in a dual system. This is an all-encompassing provision and therefore affects merchants both domiciled and not domiciled in Germany. Platforms are free to decide how they will go about checking for system participation. One option would be to check the licensing record that businesses receive from their dual system, for example.
These planned changes to the Packaging Act mean that marketplace operators and fulfilment service providers must terminate any existing agreements with merchants who are not participating in a dual system. If products from a merchant who does not participate in a dual system continue to be sold on a marketplace, this marketplace risks incurring fines of up to EUR 100,000.
Last but not least, this is intended to improve compliance with Packaging Act duties, so that those placing packaging on the market participate in professional recycling schemes and thereby help to achieve an efficient closed-loop economy.
Reminder: Packaging Act duties at a glance
Duty to register: Those placing packaging on the market must register with the Central Agency Packaging Register by entering their details into the LUCID database (guide to LUCID registration). The registration number so received must then be stored with the dual system (see duty 2).
Duty to participate in a system (also 'licensing duty'): The packaging that a business places on the market must be licensed with a dual system. This is easy to achieve with the Calculator from Lizenzero: just enter your quantities, check the licence fee and click to get everything licensed.
Duty to report data: As a final step, the licensed volumes of packaging and the name of the dual system must be entered into LUCID.
Important: The data and packaging volumes entered into LUCID must match the data and volumes licensed in the dual system at all times.