Amendment of the German Packaging Act (VerpackG): Changes in force since 3 July 2021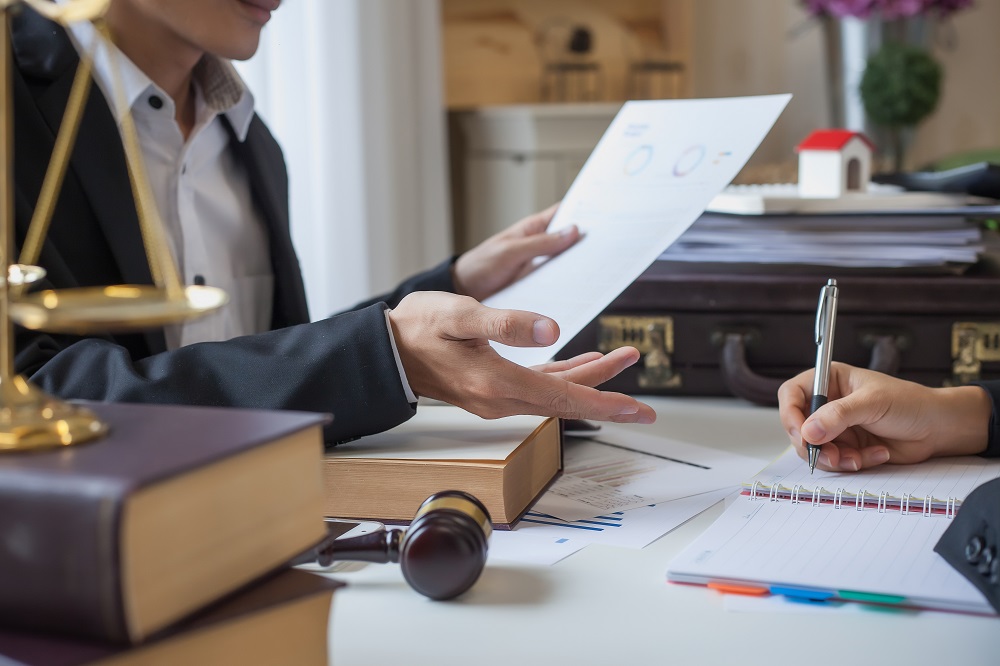 Roughly two-and-a-half years after its initial enactment, the first Amendment of the German Packaging Act has now become law. Many of its changes affect merchants who distribute their goods to private customers. They now need to comply with more stringent versions of existing registration, proof and record-keeping duties. Other changes to the Act affect wholesale traders who place transport packaging on the market. What are the details of the changes introduced by the Packaging Act Amendment and what action do you need to take as an affected business? We have summarised the key information below.
The German Packaging Act (VerpackG) entered into force in January 2019. Since then, over 200,000 initial distributors of packaging – from bricks-and-mortar retailers and smaller-scale online shops to major market leaders – have registered their details in the LUCID database run by the Central Agency Packaging Register (ZSVR). However, this figure makes it very clear that there are many more businesses who need to register: a lot of companies are therefore still not fulfilling their duties here. The German Federal Environment Ministry has therefore adopted the German Packaging Act Amendment, which tightens the regulations in the original Act when it became law on 3 July 2021.


Summary of all changes for download
An overview of changes in the Packaging Act Amendment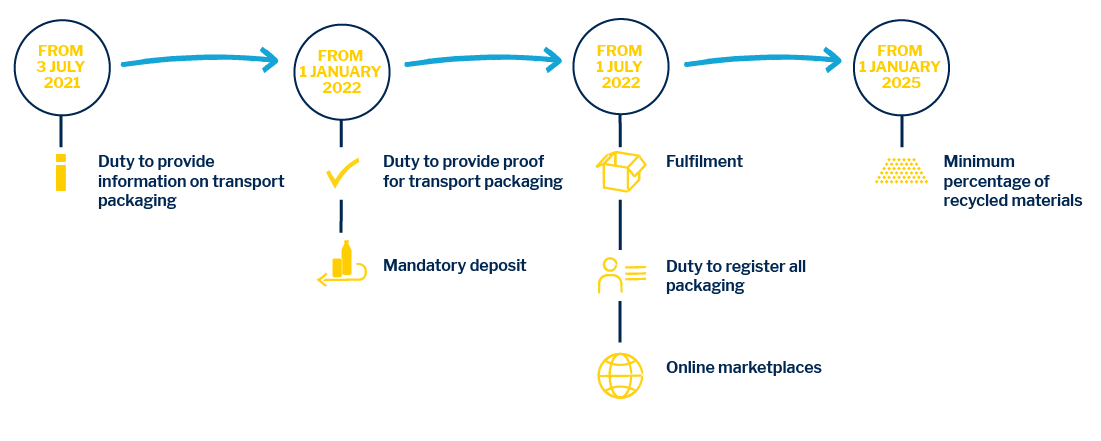 The Packaging Act Amendment affects both smaller-scale retailers as well as B2B traders. We cover the most important changes in this article.
Section 3 paragraph 14 a-c: New definitions
One change introduced by the Amendment is to provide more precise definitions of terms such as 'electronic marketplace', 'fulfilment service provider' and 'authorised representation'. These definitions also clarify the intended targets of many of the other changes introduced in 2021: both online retailers who operate their own online shops and distributors who are active on digital marketplaces will find it significantly more difficult to avoid their various product responsibilities in the future. In cases where shipping is delegated – with Fulfilment by Amazon for example – merchants now bear significantly more responsibility for ensuring compliance with the Packaging Act.


More information about Amendment changes for e-commerce
Section 7 paragraph 7: Extensions to the prohibition on distributing packaging subject to dual system requirements
If a merchant wishes to use packaging subject to mandatory licensing, they must register with a dual system and complete the LUCID registration process at the Central Agency Packaging Register before the initial distribution of these materials on the German market. This also applies to foreign distributors who ship to consumers in Germany. The changes explicitly prohibit the distribution of packaging subject to mandatory participation in a dual system by merchants (such as those operating online marketplaces) who are in breach of their Packaging Act duties. Accordingly, marketplaces such as Amazon and Etsy are now required to check compliance on the part of their merchants. In addition, fulfilment service providers also need proof of system participation from their merchant customers.


Section 9: Scope widened for duty to register
For packaging materials not subject to mandatory dual system participation, such as transport packaging, packaging for products containing hazardous substances and packaging subject to the deposit for non-refillable containers, the Amendment now requires initial distributors to register this packaging at the Central Agency Packaging Register. To fulfil this duty, the amended Packaging Act makes it possible to appoint an authorised representative, whose details are then published in the Register. Another change affects final distributors of service packaging, such as smaller food retailers or owners of bars, restaurants and other food service outlets, who now also need to register with the LUCID database.
Section 15 paragraphs 1 and 3: New duties in relation to information, submission, proof and record-keeping
A significant tightening of the existing law affects B2B distributors and the transport packaging they use, such as crates, pallets and plastic films, plus sales/secondary packaging generated in a commercial context and reusable packaging. Subject to strict duties regarding information, submission, proof and record-keeping, these distributors must now also submit proof of compliance with take-back and recycling requirements. Anyone supplying private consumers with transport packaging and packaging incompatible with dual systems, such as packaging for fridge freezers or sofas, must give these users more detailed information about options for returning packaging.
Section 30a: Minimum proportion of recycled materials
Non-reusable plastic (PET) beverage bottles must now have a minimum proportion of recycled content. The applicable figures are 25 percent by weight by 1 January 2025 and 30 percent by weight by 1 January 2030.
Section 31: Wider scope for mandatory deposit
The amended 2021 Packaging Act also extends the mandatory deposit to non-reusable plastic bottles and cans for beverages. This change applies from 1 January 2022; a transitional period during which no deposit is required will be in force until 1 July 2022 for packaging still in circulation. An exception is made for milk and dairy products, which will not need a deposit until 1 January 2024.
Section 33: Mandatory use of reusable packaging
Bars, restaurants and other food service packaging outlets typically use very short-lived service packaging to package food products. From 1 January 2023, the amended Act requires sector businesses to offer reusable packaging as an option for packaging takeaway food, so as to reduce the consumption of non-reusable packaging. A partial exemption applies to small businesses with up to five employees and retail space not exceeding 80 m². These retailers are not required to offer a reusable packaging option but must provide a filling service for receptacles brought by consumers.
Section 35 paragraph 2: Authorised representation
In accordance with section 35 (2), manufacturers not domiciled in Germany may now appoint authorised representatives to fulfil their duties. This does not apply to the duty of registration, however. These authorised representatives are then considered to be manufacturers for the purposes of Packaging Act duties.
German Packaging Act Amendment – our verdict: Tightening of regulations likely to ensure greater participation
The changes introduced by the 2021 German Packaging Act represent a tightening of the existing regulations that aims to close loopholes and encourage large-scale registration in LUCID as well as participation in a dual system on the part of all companies who either utilise packing materials or who are the initial distributors of such packaging. Not least because recycling and environmental protection can only be assured if the distributors of packaging take an active part in the process of recycling and reuse