How-To-Guide: Outsourcing logistics to a fulfillment service provider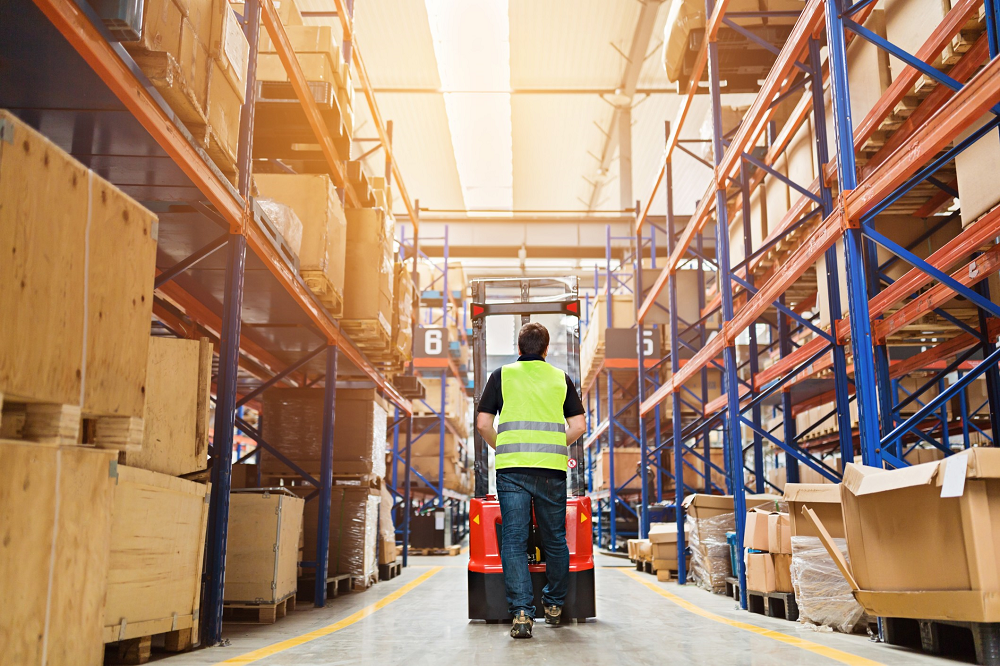 [Partner article]
The Corona crisis has incentivized many retailers to digitize their business models and open up sales channels online. As online retailers often lack the spatial capacity to carry out order processing themselves, many started looking for fulfillment service providers who can support them in this endeavor. At the same time, well-established e-commerce-companies have also reacted to the fickle development, motivated to find crisis-resistant and flexible logistics solutions for their business.
Arguably, crisis-initiated change has shifted the focus from pre-purchase customer experience to the post-purchase experience. This illustrates that optimization of order fulfillment is an essential part of the strategy development in e-commerce. In this article, we explain which factors and steps you need to consider when making the decision to outsource your logistics.
Content
When to outsource the fulfillment?
Unfortunately, as so often in life, there is no general answer to this question, since this decision depends on various factors. The most important being:
Number of shipments per month
Number of Stock Keeping Units (SKUs)
As a rule of thumb, outsourcing makes sense from a volume of 100 orders per month onward. Below that threshold it is often more economically viable to handle the shipping in-house, especially if you have a high number of SKUs in relation to the volume of shipping, or if you send highly personalized packages.
Outsourcing logistics to a fulfillment service provider is particularly suitable for the following types of companies:
E-Commerce-merchants who want to focus on their core competencies,
companies that do not wish to invest capital in the development of their own logistics capacities,
companies that scale internationally and have strong growth potential,
companies that set up their logistics in a decentralized manner to make them more resistant and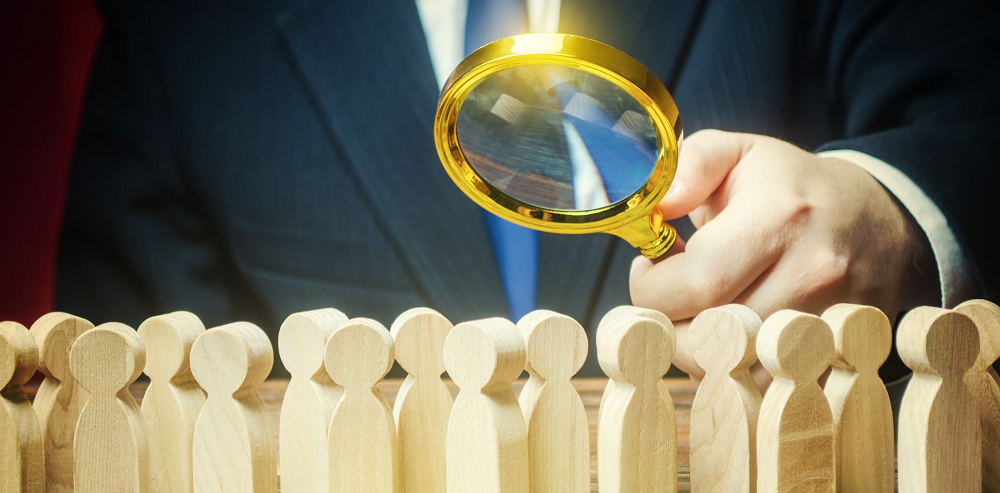 What to consider when choosing a fulfillment service provider?
Choosing the right fulfillment partner is a fundamental decision and has a strong impact on your daily business. Therefore, before choosing your fulfillment partner, you should be aware that you're entering a close partnership that will have its ups and downs - just like a marriage.
There are several factors to consider when choosing a fulfillment service provider. Among the most important are:
API integration: What technical integrations does the logistics service provider offer? It is advantageous if e-commerce sales channels can be integrated without any problems in order to automate the shipping process and update stock levels.
Logistics location: To minimize shipping costs and delivery times, you should look for a partner who operates logistics centers that are as close as possible to your customers. For this reason, it is also advisable to use a decentralized logistics network to distribute your inventory near the most important target markets.
Packaging: Especially for Direct-to-Consumer (D2C) brands, a flexible packaging process is a significant advantage in order to use the packaging not only as a means of transport but also as a marketing tool. This allows you to offer your customers a unique unboxing experience and consequently optimize the customer experience.
Peak management: Does the fulfillment service provider have suitable processes and a stable technical infrastructure that gives you the chance to scale marketing campaigns? This can also be a cornerstone of the success of your business during rapid growth and seasonal peaks.
Flexible shipping options: Check what kind of shipping options does your prospective fulfillment partner provide. Having multiple shipping options, such as express shipping or climate-neutral shipping, can improve your conversion rate. In addition, having access to a network of multiple shipping partners can be especially important in times of crisis or during seasonal peaks, when bottlenecks in logistics occur quite often, as you have the possibility to always switch to another shipping partner to avoid delays and technical-fallouts.
Outsourcing the fulfillment to a logistics service provider
Once you have decided on your fulfillment partner and signed the contract, the next step is to progressively outsource the logistics. The exact procedure depends on your situation and the service provider, but in most cases the onboarding process will be as follows:
Creation of an account: Create an account and start onboarding with a Customer Success/ Onboarding Manager.
E-Commerce integration: Connect and configure online sales channels using API integrations so that orders can be imported from the online shop or online marketplace and data can be exchanged between the systems in real-time.
Adding products: The products to be shipped must be set up with the appropriate SKUs. By specifying the SKUs, the correct products can be selected for each order. In many cases, it may be advisable to work with barcodes/EAN codes, which are applied by the manufacturer. These can be scanned when picking the goods, thus minimizing the error rate.



Important for international shipping:


Online merchants who ship their products globally also need to add more information so that customs clearance and subsequently international parcel shipping can be automated and carried out without much additional effort:

Net value of the goods
Country of origin of the product
Customs tariff number of the product
Schedule deliveries to the warehouse: Announce your product deliveries so that the logistics center can prepare for them. Whether you are moving the products from an existing location or delivering from the producer, you must take into account the time required for storage. In such cases, you also need to balance this with your order fulfillment to minimize the interruptions in the shipping process.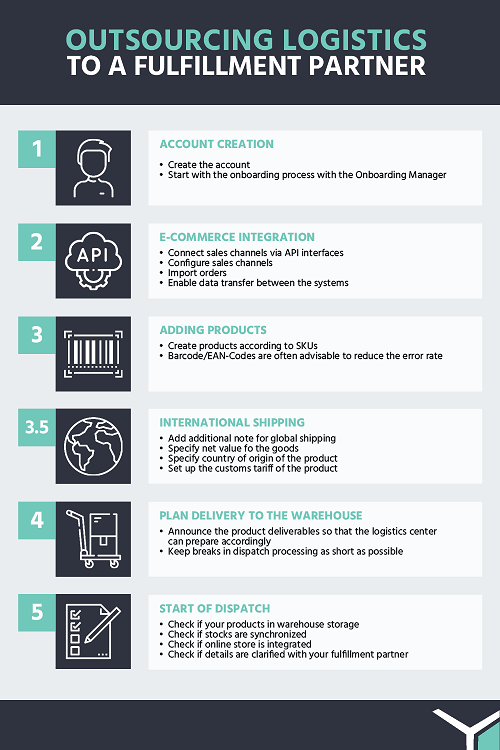 © byrd
Additional things you should pay attention to with regard to fulfillment
When it comes to outsourcing fulfillment process, there are 2 important details that are important, yet often forgotten:
Returns: If you give your customers the opportunity to return products, you should keep the return address up-to-date.
Tax aspects: Do you store your goods in another country and the company is not yet registered for tax in that country? Then you have to do this before the first delivery because this is an intra-community transfer. More information on this topic can be found in this article.
Editorial note (July 2021):
When using the services of fulfilment service providers, online retailers should be aware of the packaging licensing obligation. Under the German Packaging Act (VerpackG), (online) retailers and manufacturers must license sales packaging (product, shipping and service packaging) put into circulation that accumulates with end consumers.
Fulfilment service providers were previously responsible for the licensing of shipping packaging under certain circumstances. This responsibility has changed within the framework of the amendment to the German Packaging Act, which has been in force since 3 July 2021. After a one-year transitional period, fulfilment service providers will no longer be required to license the shipping packaging placed on the market from 1 July 2022. From then on, the licensing obligation always lies with the commissioning retailers. In addition, the system participation of the traders who want to use the fulfilment service must be verified by the fulfilment service providers from 1 July 2022. Without proof, a distribution ban will apply. You can find more information in our blog post on the changes of the VerpackG amendment for online trade.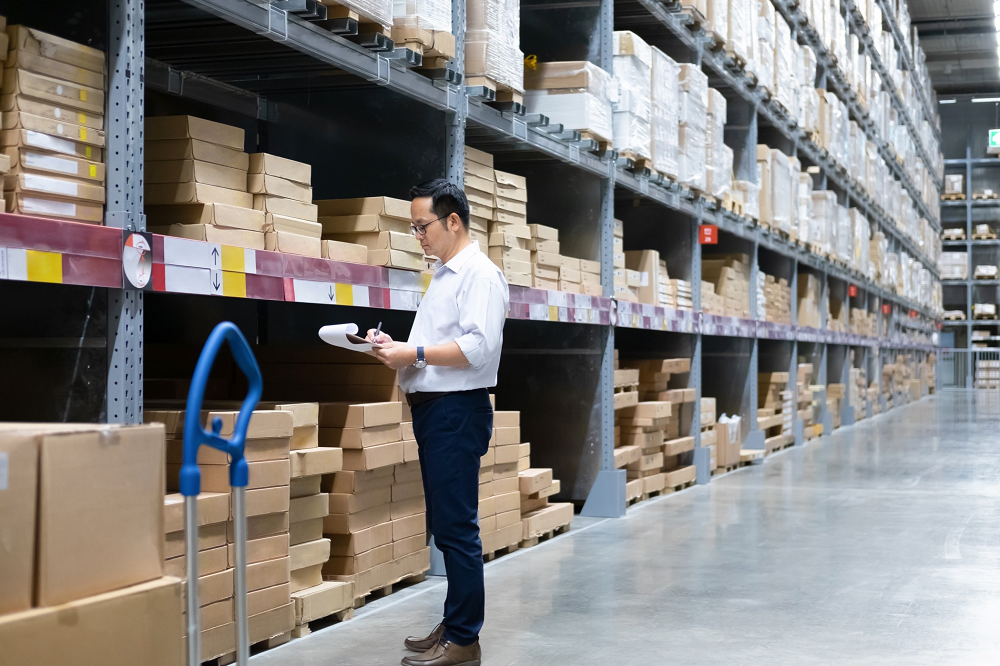 Evaluate your fulfillment partner – Fulfillment KPIs
Do you want to evaluate the performance of your fulfillment partner? Then you can look at the following two KPIs:
Quality of fulfillment/ Fulfillment accuracy: 1 - Number of erroneous shipments / All shipments
Occasionally it may happen that products are mixed up during the Pick & Pack process and therefore the wrong products are shipped. To evaluate the quality of the fulfillment, you should keep an eye on how often erroneous shipments happen and weigh it against the total number of shipments.
Fulfillment speed: 1 - Number of delayed shipments / All shipments before the cut-off
For example, if the cut-off time is 12:00 o'clock, then all orders placed before 12:00 o'clock should be shipped the same day as long as there are no technical issues or other problems with the processing. For example, if 2 of the 200 orders received before 12:00 are not shipped on the same day, the rate is 99%. The higher the rate, the better.

© byrd
Conclusion: Optimizing fulfillment is of paramount importance for growth
In conclusion, outsourcing logistics cannot happen overnight and the choice of fulfillment partner should be well thought through. It is also worth noting that those who constantly change the fulfillment strategy and often change their fulfillment partners, end up losing money and experience a lot of technical issues as they channel their resources and time in re-selection of fulfillment strategies, instead of optimizing the system within the already established partnership. Notwithstanding, having read this guide, you should have a good sense of how to successfully outsource your logistics to a best fulfillment partner and optimize your order fulfillment strategy.
Our Partner:
byrd offers an e-commerce fulfillment platform to online shops, enabling them to outsource and control their entire logistics on a global scale with a few clicks. The cloud-based logistics software integrates with leading e-commerce systems which offers maximum automation and transparency.